Fruit Warp
9 Fruit Modes for x11,000 Multiplier Wins
It has received much attention due to its bizarre gameplay. There are no paylines and not one but 10 types of bonuses. No wonder it's one of players' favourites, especially for its jackpot that reaches 11,000x the total stake. It's the Fruit Warp slot from Thunderkick.
Currently, you'll find it at many new casinos, including Highroller and Wildz.
Here are the 4 key things to remember before play at a glance.
Play Fruit Warp


Recommended Thunderick casino
1. How to Play Fruit Warp?
Fruit Warp is the only Thunderkick video slot without paylines.
So how do you play this thing that looks like an arcade?
In fact it's quite simple – you only need 3 or more of the same symbol to win. Doesn't matter where the symbols is, just look for the same type.
Speaking of symbols, this could be cherries, plums, strawberries, oranges, bananas, grapes or one of the 3 high value fruits: a star fruit or carambola, a horned melon or kiwano, or a dragon fruit called pitaya.
Note: There's always 9 fruits on the screen at once. No more, no less.
While 3 of a kind will only win you 1x the total stake at most, 9 of the same fruit can get you 216x the total bet.
But the best news is that the moment you land 4 of the same fruit, you'll trigger Fruit Warp's first bonus feature.
2. Win Portal Re-spins for 4x+ Same Symbol
To add more bang to the main game, here's a unique feature for you – Portal Re-spins.
Each time you trigger a combo of 4 of the same fruit, they'll freeze as the rest of the symbols disappear into another dimension.
As this happens, you'll get 5 new symbols on the game's 9 "reels", chosen completely at random. This is done to help you get at least 5 of a kind, which leads you to the following bonus game.
3. 5 of a kind Triggers Fruit Mode Bonus
Unlike the Portal Re-spins, this one's a proper bonus.
In other words, the Fruit Mode is sort of a Free Spins bonus with extra tweaks and ways to win more. There's no specific number of rounds as it all depends on the outcome of each spin.
Again, to activate it, you need 5 or more of the same symbol. Then depending on the fruit combination, the bonus will take on the corresponding colour and turn that fruit into a more special one.
And this is where the Warp Meter comes into play.
4. Warp Meter with Dynamic Multipliers and Extra Lives
During the "Free Spins" bonus there's a special addition called the Warp Meter.
It's at the bottom of the screen, together with a few additional rewards: 3 dynamic multipliers and in some cases extra lives as well.
Each symbol has a unique Warp Meter structure, so there are essentially 9 different Fruit Modes or Free Spin bonuses.
Here are the 5 most important things you should keep in mind about the Fruit Mode:
Each symbol matching the Fruit Mode type activates 1 step in the Warp Meter.
You need at least 1 such symbol to continue playing, or the bonus will end.
Once a reward is reached (a dynamic multiplier or an extra life), it's all yours.
For every other winning combo the dynamic multipliers on the Warp Meter increase (as evenly as possible).
The extra life reward, when activated, acts as a safety net in case you don't land any of the mode symbol.
That said, here's a something more to remember.
The extra life reward may not even be there in some bonus modes, so don't count on it too much.
As far as the multiplier goes, it's the number of symbols in a win that determine the multiplier increment. What's more, you'll only get the highest multiplier reward when the feature ends.
Once you get to the very end though, you can expect some pretty generous wins.
Conclusion
Juicy wins up to 11,000x Total Bet come Your Way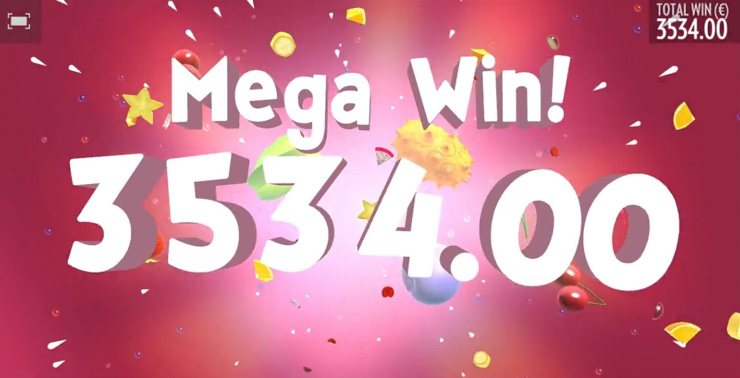 As we can see, the Fruit Warp slot is both really exciting and confusing at times.
Not only does it look like the mobile Fruit Ninja game, but it has no winlines. Among the best things you'll find:
Symbols that pay up to 216x the total stake
Portal Re-spin features that help you win more
9 Fruit Modes with additional multipliers and extra lives.
So when life gives you lemons, make lemonade — play Fruit Warp slot at Casumo.
If you like it then Sunny Scoops is something very similar, with increasing multipliers in the bonus and a lower variance for a generous jackpot of 6,150x the total stake.
Thunderkick slot reviews
See more Thunderkick slot reviews